While special events are always exciting, deciding what to wear to them can be stressful especially when dress codes are involved. Cocktail parties come under those kinds of events. They are as much about style as they are about socializing. That being said, cocktail dresses are a must-have prized possession in every woman's wardrobe. Simply put, cocktail attire is nothing but formal clothing but far more celebratory.
The options are only endless. Anything from a classic LBD to an Aline strapless midi dress are your safe bets. You can always break some rules and experiment with new looks but only with utmost consideration and care. Here we've got you a few ideas to lookchicest at your next cocktail soirée.This will ensure you turn heads while fitting in at the event.
1.    Monochrome Illusion Dress
In the wise words of Karl Lagerfeld "One is never overdressed or under dressed with a Little Black Dress." An LBD is an ever green choice that will never go out of style. Less formal, yet prim clothing. This scalloped dress is absolutely perfect. The cut-out dress isen-vogue and gives it a run-worthy feel.
Statement heels are almost always a must. They are ideal for adding a sophisticated finish to your look. Throw on some black statementheels that go perfectly with this scalloped dress. To make it look a tad bit more formal you can throw on a sleek blazer.A clutch or a mini bag always reads as elegant and refined.
Boulevard one shoulder dress
You wouldn't want to feel limited to just black options either. Go beyond the LBD. A minimalist slip cut out dress is an elegant option that wouldn't run the risk of looking overly fancy or informal. Nothing beats a polished party dress like this one. The stunning print and gorgeous play of colours make this dress one of a kind.
Accessories go a long way in elevating your outfit and just one statement piece is enough to enhance the look. So adorn this scalloped dress with earrings and statement heels for extra glamour. A touch of fur is ultra-glam for cold weather months.Platform heels, wedges, or pumps are perfect footwear options. They give you a smart and understated look, plus they enhance your silhouette. A clutch is your best bet or a small yet stylish body bag.It makes a statement in itself.
3.    Amelie Abstract Sheer Panel Crop top and skirt set
While a cut out dress will always be a safe bet, you can also experiment with two piece ensembles.If there's plenty of room for fun, go for an eye-catching ensemble. Try selecting this boldly patterned skirt and top set.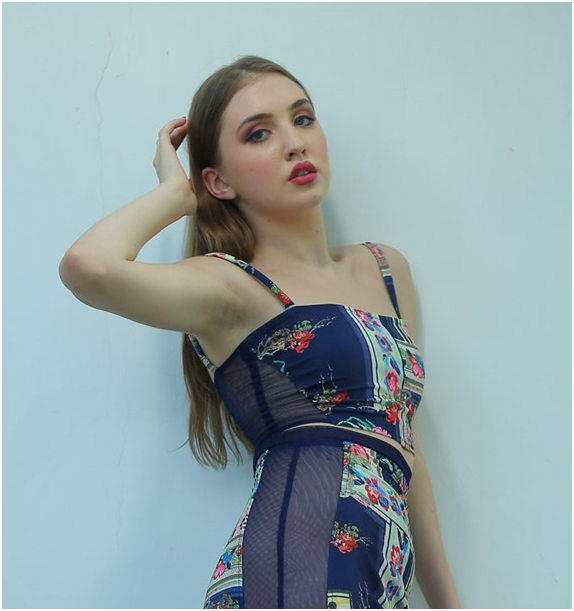 Don't fear some bling.Pair the outfit with a statement necklace and just enough make up.Throw on some major heels that stand out in a crowd and you'll instantly be the coolest girl in the room.Pick a small purse that will fit the bare essentials or opt for a handheld clutch. A low chignon is an easy, never fail option that works for any occasion.
The result will be a bold yet chic look that's perfect for swanky cocktail parties.
It's not that difficult, after all. Is it?Cocktail looks should always appear sophisticated; they can also be fun but it needn't be complicated. Also, risking being under dressed is never worth it.  Follow the tips and you'll be able to nail the perfect cocktail look with ease.